Galleries


I work in a variety of techniques and media, including painting (oil, acrylic, pastel); original print making (lithography, etching, block printing, monotypes) and photography. Although I am probably best known for my landscape work, I also do florals and figurative.

There are many ways I could organize my image galleries, but I have chosen to separate the work into three broad categories. I invite you to explore the galleries and hope you enjoy what you find. I appreciate any feedback on the work or on the site.

Please click on the image to enter the gallery.

Powered by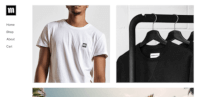 Create your own unique website with customizable templates.